MAXON CRUMB
Reading the Cosmic Wheel
First fine art limited edition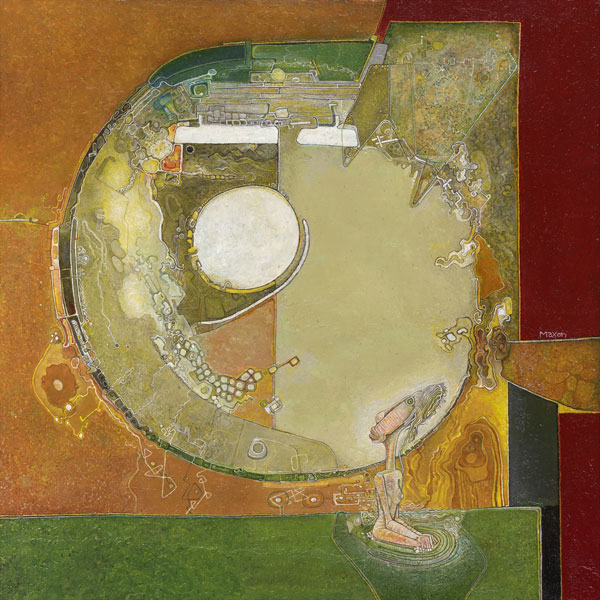 Because demand for Maxon's paintings exceeds their ready availability Word•Play is pleased to present his first in a series of museum quality color works. All the subtle nuance and powerful texture of Maxon's oil-on-canvas are meticulously recorded in Reading the Cosmic Wheel, an archival pigment print based on Maxon's brilliant 2007 painting.
Like the eternal circle within it, this stunning work embraces Maxon's unique concept of nature, intellect and spirituality. As the peaceful seeker in the picture knows, the more you study Reading the Cosmic Wheel the more you discover. Islands of velvet black, moss green and Manzanita-bark red flow to energetic swirls, pools of delicate color and intricate tracings of line that guide your soaring thoughts back again.
"...truly magnificent!" - Robert Crumb on Maxon's Reading the Cosmic Wheel giclee.
The image measures 20" x 20" (51cm x 51 cm) on 24" x 24" (61cm x 61cm), 325 gram, 18-mil, 100% acid-free, smooth fine art paper. Limited to an edition of 60, each work is signed and numbered by Maxon Crumb. Shipped flat in sturdy box. $650.00 plus s&h.
Prices do not include shipping, insurance or applicable sales taxes. Mail a check?