<!!--#exec cgi="/art/maxon/gallery.cgi/rare/start?m=preview&ss=no&showresumespeed=&showspeed=8&sz=no"-->
Select an image to see it larger.
A Unique Maxon Crumb collection, Part III
This is spontaneous art made on anything Maxon had on hand - especially in the early 1970s when he was taking LSD - and indicative of his spare life style. Consequently, slight imperfections on the paper may appear and are clearly noted in the work's description. Each drawing is mounted under an 8-ply archival matt and backed with sturdy quarter-inch foam-core.
Note: Many of these images are so delicately drawn they are unusually difficult to photograph, scan, and post to exactly represent the original. We welcome the opportunity to describe the drawings with you in full detail, so please call (415.397.3716) not only to ascertain their availability, but also to go over any question about their condition.
About the Artist
Born in 1945, Maxon Crumb is the youngest brother of Charles (deceased) and Robert Crumb. Although Maxon has been drawing, painting, and writing for over 25 years (early work appeared in Weirdo, Liquidator, and his self-published Crumb's Brother's Magazine), it is only since the publication of Maxon's Poe (Word•Play, 1997) and HardCore Mother (CityZen Books, 2001) his first novel, that his artistry has been accessible to a wide audience.
From 1997 Maxon has earned his living solely through art sales, book royalties, and private commissions. Despite his busy schedule he still takes time to enjoy long walks in the country and explore his inner self. He still meditates a few hours a week on the streets of San Francisco.
Maxon's worldview is in his art. He is well versed in classic art and literature, as seen in his references to European masters and exotic images of Aztecan/Mayan architecture and sacrificial rituals. Suppressed sexual tension and curiosity are expressed in searching, sometimes graphically violent, compositions. Throughout his work runs a current of sophisticated, subliminal social commentary.
Maxon is a quiet genius; eccentric, perhaps, but practical aplenty (he's very computer savvy, for instance) to balance his creative gifts.
Word•Play is proud to offer the art of Maxon Crumb.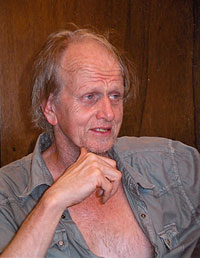 Maxon Crumb, 2007
photo © M.K. Whyte