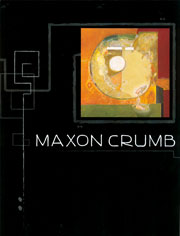 a must-have for Maxon Crumb art collectors!
Maxon Crumb: The Monograph
Maxon Crumb: The Monograph was published on the occasion of the exhibition "Crumb Brothers; Maxon And Robert" at the John Natsoulas Gallery, July 7 - August 28, 2010, in Davis, California. Although not a catalog of the exhibition, this historic book is important not only because it records 40 years of Maxon's art, from the early 1970s to the present, but also because it is limited to less than 300 copies printed.
Beautifully designed, the monograph gathers, from private collections around the country, thirty-two, full-page images of brilliant paintings and powerful black-and-white drawings that demonstrate Maxon's rich artistic range.
The essay by Malcolm Whyte, author of The Underground Comix Family Album and representative for Maxon's original art, details the esoteric influences and absorbing interests that invest Maxon's amazing work - from erotic fantasies and soulful nature studies to family portraits and complex abstractions.
Maxon Crumb: The Monograph is a rare document of a rare, creative spirit.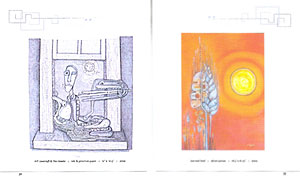 Illustrated quality paperback in color and b&w.
$35.00
8 1/4" x 10 3/4", 47 pages + cover.
Prices do not include shipping, insurance or applicable sales taxes. Mail a check?