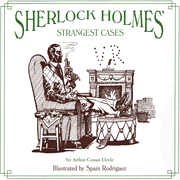 Sherlock Holmes' Strangest Cases
By Sir Arthur Conan Doyle
Illustrated by Spain Rodriguez
Five of the weirdest, most ghastly adventures to ever involve Holmes and Watson are brought vividly to life by the powerful pen of Spain Rodriguez (1940-2012) in Sherlock Holmes' Strangest Cases. Only England's super detective could solve the startling mysteries of death by a brutal harpooning, a collapsing room, burial alive, and exotic poisonings. Only Spain's forceful, dramatic renderings of moonlit moors, baronial mansions and souls driven mad with terror can perfectly match these timeless tales by Sir Arthur Conan Doyle and enrich "The Adventures of the Engineer's Thumb," "The Adventures of the Musgrave Ritual," "The Adventure of the Devil's Foot," "The Adventure of the Speckled Band," and "The Adventure of Black Peter."
One of the founding ZAP Comix artists, Spain Rodriguez has contributed to scores of publications over the years. His legendary characters Trashman and Big Bitch are now preserved in their own anthologies. Spain currently balances his time between illustrating "The Dark Hotel" for online Salon Magazine, teaching art (he recently taught cartoon art history at the University of Milan), and pursuing publication of his illustrated version of William Lindsay Gresham's Nightmare Alley.
<!img src="../images/books/holmes2.gif" alt="" width=150 height=97 border=0>
$48.00 hardcover, very low printing, under 100 copies made; only 11 available
$125.00 hardcover edition, signed, numbered 1-200
$275.00 hardcover edition, signed, lettered A-Z
with art
ISBN 1-892847-02-7
7" x 7", 120 pages, illustrated.
Prices do not include shipping, insurance or applicable sales taxes. Mail a check?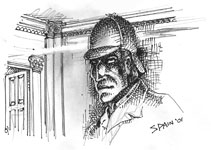 Original Art
This is an example of the unique drawings made by Spain for the lettered copies of Sherlock Holmes' Strangest Cases. Each portrait of Sherlock is rendered in black ink and graphite. Each is an original drawn in the book and each is similar but different from the other.