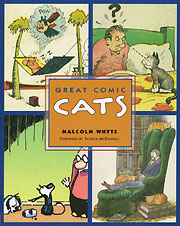 Great Comic Cats
By Malcolm Whyte
Foreword by Patrick McDonnell
In this delightful history of funny felines - a revised edition of the original 1981 publication - caricature, comic narrative, and color art add to the original coterie of creatures. Each of the eight entertaining chapters includes historical tidbits relevant to the printing, literature, and lifestyle of cartoon cats dating back over 225 years. From Thomas Nast's ferocious Tammany Tiger to George Herriman's mischievous and irrepressible Krazy Kat to Jim Davis's cynical and self-centered Garfield, Great Comic Cats is a tribute to the legions of furry muses who have inspired artists for ages and ages.
Our present day cultural icons, such as Dr. Suess's Cat in the Hat, B. Kliban's Cat, the tiger Hobbes from Bill Waterson's Calvin and Hobbes, Edward Gorey's feline companions, and Mooch of Mutts, all demonstrate that the artistic tradition of creating cats to speak our minds, make us laugh, or confound our thoughts continues, stronger than ever.
Foreword by Patrick McDonnell, creator of the Mutts comic strip.
All new chapter on Edward Gorey. Four never-before-published images (12 cat poses in one of them!) in full color.
About the author: Malcolm Whyte is the founder of the Cartoon Art Museum in San Francisco; the museum recently elebrated its fifteenth anniversary. He is also the author of
The Underground Comix Family Album
.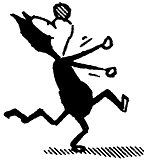 $90.00 hardcover limited edition, numbered 1-100 and signed by the author, color wrappers over boards.
Only 1 left!
8" x 10", 168 pages, with more than 50 color and 200 b&w illustrations, bibliography, and index.
Prices do not include shipping, insurance or applicable sales taxes. Mail a check?