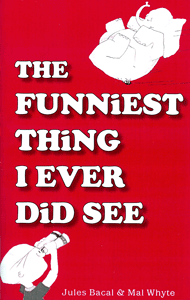 The Funniest Thing I Ever Did See
By Joe Bacal and Malcolm Whyte
What's the .....iest thing you ever did .....?
The pages of The Funniest Thing I Ever Did See burst with silly, surprising adventures of monsters, dragons, dinosaurs, wild animals and friendly pets - everything a youngster could wish for.
Deceptively simple verses deliver basic concepts of observation, invention, manners, kindness, fear, and friendship, among others. This rhyming wordplay introduces principle of adjective-comparative-superlative grammar, while the two-page exercise at the end of the book invites the reader to write his/her own experiences - real or imagined - and discuss them.
Black and white cartoon drawings present an additional creative activity by being suitable for coloring-in as they reinforce retention of the verbal message. The Funniest Thing I Ever Did See fosters the joy of reading and writing.
Joe Bacal is Co-founder of SunBow Productions; head writer of the Peabody Award-winning TV series The Great Space Coaster; and co-author, How to Become A Legend In Your Own Lifetime - A New Concept in Self-Help; published poet.
Malcolm Whyte: Founder of the Cartoon Art Museum in San Francisco; president of Word Play Publications; co-author, The Original Old Radio Game; and author, Great Comic Cats and The Underground Comix Family Album.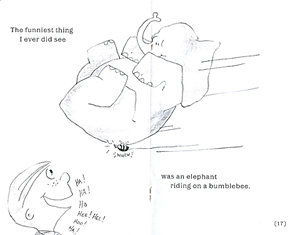 $14.95, paperbound edition
5.5" x 8.5", 32 pages + cover, illustrated
Prices do not include shipping, insurance or applicable sales taxes. Mail a check?